Review of Hans von Dohnanyi, "Mir hat Gott keinen Panzer ums Herz gegeben": Briefe aus Militärgefängnis und Gestapohaft 1943-1945
Contemporary Church History Quarterly
Volume 23, Number 1/2 (June 2017)
Review of Hans von Dohnanyi, "Mir hat Gott keinen Panzer ums Herz gegeben": Briefe aus Militärgefängnis und Gestapohaft 1943-1945 (Munich: Deutsche Verlags Anstalt, 2015), 351 pages, ISBN 9783421047113.
By John S. Conway, University of British Columbia
Hans von Dohnanyi was one of the most prominent men in the group of high-ranking German military officers and leading civilians who conspired in the course of the Second World War to overthrow Adolf Hitler and the Nazi regime. The failure of the attempted assassination plot in July 1944 led to Hitler's orders to the Gestapo to round up and execute all those suspected of being involved, including Dohnanyi, his brother-in-law Dietrich Bonhoeffer, and two other brothers-in-law who were all put to death in April 1945.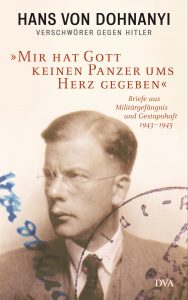 Dohnanyi had been trained as a constitutional lawyer and had held significant posts in the Ministry of Justice. But he had early on become dismayed at the illegal activities and political violence of the Nazi extremists and had in fact drawn up a dossier which documented these misdeeds in full detail. At the end of 1942, he had organized an elaborate scheme to smuggle a group of Jews out of Germany to Switzerland, which had however aroused the suspicions of the Gestapo. In early April 1943, Dohnanyi, his wife, and Dietrich Bonhoeffer were all arrested and held in separate prisons. Luckily, his wife was released a month later and subsequently did her best to bring supplies of food, clothing, and correspondence to Hans' prison for the following two years.
The bulk of this present volume consists of Hans' letters to his wife from his solitary confinement cell. Since he was well aware that all such letters—in both directions—would be scrutinized and even censored by the Gestapo, he was careful to make no reference at all to political affairs, or even to the conduct of his interrogations by Gestapo officials. So, this volume adds nothing to the now well-known story of the 1944 conspiracy or the reasons for its failure. Instead, these letters are mainly outpourings of Dohnanyi's admiration for and devotion to his wife, along with reminiscences of their twenty years of married life, and greetings to his three children. In other circumstances, the constant repetition of such outspoken affection might seem overdone, but the contrast between these exalted sentiments and the squalid conditions in his lonely cell is touching. By the end of 1943, Dohnanyi was suffering from severe attacks of thrombosis in both legs, so that he was unable to stand or walk and had to be carried everywhere on a stretcher. He hoped that, after a year in jail, the Gestapo would find more pressing cases to pursue, or that his health condition would lead to his release. In fact, neither wish was fulfilled. The discovery of his dossier amongst the secretly held papers prepared for publication if the assassination of Hitler had been successful sealed his fate. He was immediately taken to Sachsenshausen concentration camp and was executed on April 9, 1945. On the same day, his brother-in-law Dietrich Bonhoeffer was also murdered in Flossenburg concentration camp, along with two other members if the Bonhoeffer family.
The publication of these letters, seventy years after these events, is clearly designed to provide a later generation of Germans with an inspiring example of endurance and courage in the face of political extremism and lawlessness.