Review of Alexander Reynolds, To War Without Arms: The Journal of Reverend Alexander Reynolds, May – November 1944: The D-Day Diary of an Army Chaplain
Contemporary Church History Quarterly
Volume 27, Number 2 (June 2021)
Review of Alexander Reynolds, To War Without Arms: The Journal of Reverend Alexander Reynolds, May – November 1944: The D-Day Diary of an Army Chaplain, ed. Simon Trew (Devizes, UK: Sabrestorm Publishing, 2019). Pp. 152. ISBN: 9781781220146.
By Doris L. Bergen, University of Toronto
Anyone interested in World War II, the Normandy campaign, military chaplains, or contemporary church history will benefit from reading this book. Statements of this sort usually come at the end of reviews, but I wanted to begin with the conclusion, in order to highlight the value of this modest publication. Written by an unpretentious man, Revd. Alexander ("Sandy") Reynolds, To War Without Arms was skillfully but unobtrusively edited and published by a small, non-academic press. Yet it provides a wealth of information and insight across a wide range of important topics. Like most personal accounts, it is engaging, at times surprising, and a pleasure to read. Maps, numerous photographs, and five appendices, one of them a reproduction of Chaplain Reynolds's poem, "Beach Dressing Station, June 6/44," supplement and illuminate the main text.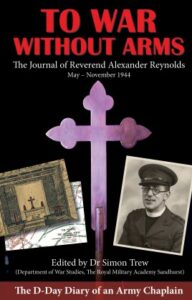 Readers eager to expand their knowledge of World War II will appreciate details that are rarely addressed in standard histories. Reynolds, who served with the 120th Light Anti-Aircraft Regiment, describes how he experienced the elaborate preparations for the Normandy landings, including three days on board LST (Landing Ships Tank) 319. He also provides a fascinating glimpse into British interactions with locals in northern France and Belgium in the months after the breakout. For example, through a funeral he conducted for a Protestant civilian, Reynolds met and befriended a French woman, Mlle Perremond, who spoke excellent English. He subsequently learned that she and two other French women, one young, the other elderly, had helped seven downed RAF pilots escape to England.
Reynolds's journal entries dealing with the first days in France capture both the enormity and the carnage of D-Day. Simon Trew aptly titled his "Editor's Introduction" to this section Burying the dead. Reynolds describes burn victims, one of whom asked, "through his bandages," for someone to hold his hand (59). The chaplain obliged, staying to talk with the man for half an hour before moving on to a church where twenty-one men lay dead. "Death, en masse, is a queer revolting smell," Reynolds observes (60). In simple, direct language, he portrays the devastation of the men's bodies, their faces grimy and contorted, limbs missing, bones splintered. The journal's only reference to God appears in this section: "What an insult to the Creator that these creatures which he shaped should be so mangled and smashed. For a time, I even forgot that the soul was not there, neither destroyed" (62). I have read those two sentences over and over, unable to decide if they express doubt, faith, or both.
To War Without Arms offers some useful facts about British Army chaplains. One hundred of them landed with Allied personnel on D-Day; twenty were killed in the campaign. Their duties were similar to those of their German counterparts – they administered the sacraments, tended to the sick and wounded, and buried the dead – and they faced some of the same practical challenges, including difficulty getting around: without a car, driver, and fuel, a chaplain was practically useless. Reynolds was likely also typical of British and German chaplains in that his wartime experience "clearly made a deep impression on him," in Trew's words (117). He continued to seek ways to connect with service personnel after returning home and he may have been somewhat restless in civilian life. Whether his declining health was connected to the stresses of his time at war is not indicated, but he died suddenly, at the age of 59.
The cover of the book features a large copper cross made for Chaplain Reynolds in Normandy by a group of Royal Engineers, and Appendix 1 describes its continued use in services and ceremonies since the war. That cross bespeaks a vision of military Christianity that weaves through the editorial comments, illustrations, and appendices. Trew spells it out in his sketch of the duties of British Army chaplains. The Army "regarded religious inspiration as a source of spiritual and moral strength throughout the Second World War," he writes (18). Appendix 2, titled "Montgomery and his chaplains," identifies this view as the personal conviction of General Bernard Law Montgomery, the son of an Anglican Bishop: "He appears to have believed quite sincerely that religious faith provided the underpinnings for success in battle, and that the army's own chaplains could play a critical role in raising morale and standards of discipline among the troops" (123).
Trew contrasts the positive attitude of Montgomery and others in the British military hierarchy toward their chaplains with the German situation, but the difference may be one of degree and not of kind. German chaplains too emphasized their utility and downplayed the religious nature of their mission. Most of them would have been proud to be described in the words Trew uses to praise Reynolds: "Although there was ample evidence of the sincerity of Reynolds' personal beliefs and sense of duty, the journal lacked any trace of religiosity, piosity or sanctimoniousness" (8). In short, it was not their relationship with military authorities or the work they did that distinguished the Wehrmacht chaplains from their British counterparts: it was the murderous cause they served.
To War Without Arms is fascinating reading, and the editor's informed commentary elucidates the significance of Revd. Reynolds's text. However, this reader was left wishing the editor had offered more analysis. For instance, Trew notes that "much of the journal's content was clearly written sometime after the events described" (11); it would have been good to get a clearer sense of that timeline and the process. Likewise, more discussion of the photographs would be helpful, particularly because they include a mix of archival images and photos from Reynolds's personal collection.
The role of Reynolds's daughter, Georgina Spencer, in initiating and facilitating publication of this book also deserves mention. So many priceless personal accounts have seen the light of day thanks to the combined efforts of family members and scholars. In fact, a cooperation of this sort is currently underway involving the daughter of Johannes Schröder, a German Protestant chaplain captured by the Soviets in January 1943, and the historians Hartmut and Silke Lehmann.[1] The resulting book, like To War Without Arms, will be a welcome addition to the small but growing body of work on military chaplains during World War II.[2]
Notes:
[1] Johannes Schröder, Waches Gewissen – Aufruf zum Widerstand. Reden und Predigten
eines Wehrmachtpfarrers aus sowjetischer Gefangenschaft 1943 – 1945, ed. Christiane Godt, Peter Godt, Hartmut Lehmann, Silke Lehmann, and Jens-Holger Schjörring (Göttingen: Wallstein 2021).
[2] See, among others: Manfred Messerschmidt, "Aspekte der Militärseelsorgepolitik in nationalsozialistischer Zeit," Militärgeschichtliche Mitteilungen 1/1968, and Messerschmidt, "Zur Militärseelsorgepolitik im Zweiten Weltkrieg," Militärgeschichtliche Mitteilungen 1/1969; Hans Jürgen Brandt, ed., Priester in Uniform: Seelsorger, Ordensleute und Theologen als Soldaten im Zweiten Weltkrieg (Augsburg: Pattloch, 1994); Doris L. Bergen, "Between God and Hitler: German Military Chaplains and the Crimes of the Holocaust," in Omer Bartov and Phyllis Mack, eds., In God's Name: Religion and Genocide in the Twentieth Century (New York: Berghahn, 2001), 123-38; The GI's Rabbi: World War II Letters of David Max Eichhorn, ed. Greg Palmer and Mark S. Zaid (Lawrence: University Press of Kansas, 2004); Michael Snape, God and the British Soldier: Religion and the British Army in the First and Second World Wars (London: Routledge, 2005); Martin Röw, Militärseelsorge unter dem Hakenkreuz. Die katholische Feldpastoral 1939-1945 (Paderborn: Schöningh, 2014); Lauren Faulkner Rossi, Wehrmacht Priests: Catholicism and the Nazi War of Annihilation (Cambridge, Mass.: Harvard UP, 2015); Dagmar Pöpping, Kriegspfarrer an der Ostfront: Evangelische und katholische Wehrmachtseelsorge im Vernichtungskrieg 1941–1945 (Göttingen: Vandenhoeck & Rupprecht, 2016); Jouni Tilli, "'Deus Vult!' The Idea of Crusading in Finnish Clerical War Rhetoric, 1941-1944," War in History 24, no. 3 (2017): 363-85; David A. Harrisville, The Virtuous Wehrmacht: Crafting the Myth of the German Soldier on the Eastern Front, 1941-1944 (Ithaca, NY: Cornell University Press, 2019).