Review of Peter Eisner, The Pope's Last Crusade. How an American Jesuit helped Pope Pius XI's campaign to stop Hitler
Contemporary Church History Quarterly
Volume 19, Number 4 (December 2013)
Review of Peter Eisner,  The Pope's Last Crusade.  How an American Jesuit helped Pope Pius XI's campaign to stop Hitler (New York: Harper Collins 2013), 292 Pp. ISBN  978-6-06-204914-8.
By John S. Conway, University of British Columbia
Peter Eisner, who is an accomplished journalist and contributor to the Washington Post, was intrigued by the remarkable episode in 1938-39 of Pope Pius XI's "hidden" encyclical, which was never proclaimed and was later suppressed. So he resolved to write this sprightly account, largely using the testimony of Fr. John LaFarge, the American Jesuit who played a major part in the document's composition.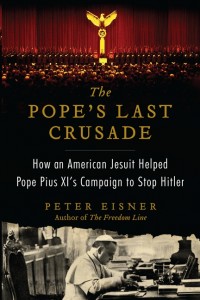 Briefly the story is as follows. Pope Pius XI (Achille Ratti) who reigned from 1922 to 1939 was increasingly alarmed and dismayed by the rise of Nazism and its flagrant and sustained  attacks against both the Catholic Church and the Jews. Already in 1937, Pope Pius, after consulting the German bishops, had issued a vigorous protest in the Encyclical "Mit Brennennder Sorge". But the results were disappointing. Hitler merely stepped up his persecution of the church, and encouraged his associates to be even more virulent in their campaigning against the Jews. But by 1938 the Pope had determined to protest again, specifically against the violent extremism in the Nazis' racial and anti-Semitic ideology. By chance  the Pope had come across a book written by LaFarge entitled Interracial Justice, which described the plight of blacks in the United States, and pleaded for the church to take a lead in combatting racism in that country. The parallels between racism in America and the dangers of anti-Semitism in Europe were easy to see.
Unbeknown to the Pope, it just so happened that LaFarge was taking a sabbatical trip to Europe in early 1938, and in due course visited the Jesuit headquarters in Rome. When Pius XI heard about this, he summoned LaFarge for a private audience, and on the spot commissioned him to prepare an encyclical which would tackle the fateful subject of racial prejudice and the need for the church to speak out against it. As Eisner points out, Pope Pius envisaged a gesture which would go beyond daily condemnations of each atrocity uttered by the Nazis. He wanted a verbal offensive with a major statement which would have a world-wide impact in denouncing the Nazis' fanatical anti-Semitic ideology. So LaFarge's appearance seemed to be both timely and fitting. Indeed, as LaFarge later recalled, the Pope had said he was "heaven-sent". This commission was to be kept secret. Apparently not even the Secretary of State, Cardinal Pacelli, nor the Jesuit Superior General Ledochowski was consulted.
For the subsequent events, Eisner relies on LaFarge's reminiscences as related to his Jesuit fraternity in New York twenty-five years later, shortly before his death in November 1963, on the same day as President Kennedy was assassinated. Not surprisingly Eisner adopts LaFarge's interpretations, as well as sharing his expectations and disappointments. Since LaFarge had felt he needed help in undertaking this assignment, the Jesuit General Ledochowski called on two other Jesuits, one French and one German, who had already worked on earlier encyclicals and knew the appropriate style and language to be adopted. LaFarge, however, was later to remark that his German colleague, Gustav Grundlach, had only made the document more long-winded. In any case, they decided to retreat to Paris for two months to compose the text and make suitable translations into Latin, French, German and English. Unfortunately Eisner does not reprint the entire text but only gives us certain excerpts in an appendix. These focus almost entirely on a theoretical discussion of the ideas of race and racism, following the document's title The Unity of the Human Race. Eisner gives us only one short paragraph dealing with the actual persecution of the Jews. This deplored the flagrant denial of their human rights which had affected many thousands of helpless persons, "wandering from frontier to frontier, they are a burden to  humanity and to themselves".
Having completed his assignment, LaFarge took the resulting texts personally to Rome, and loyally presented them to Ledochowski, confident that they would be forwarded speedily to the Pope. But he himself did not meet with the pontiff and instead sailed home to America where his brother was dying. He eagerly looked for news from Rome about the Pope's reactions, but none was ever received. On the other hand it is clear that the intended secrecy had been breached. By the end of 1938, rumours were circulating in Paris that the Pope was about to issue a new encyclical outlining the church's opposition to Nazi fanaticism. In January 1939 it was announced that the Pope would make a important announcement when he addressed the Italian bishops in early February. LaFarge naturally expected that that this would be the occasion when "his" encyclical would be promulgated and his views given official endorsement. But in fact Pius died early on 10 February just two days before his speech was due to be made.
Eisner is very skillful in depicting the atmosphere in the papal court and the diplomatic and political repercussions which ensued. He conjures up the death bed scene in the Vatican, and describes the reactions of the major ecclesiastic and political participants. According to a venerable Vatican tradition, the dead pope's offices and files were immediately sealed. Four weeks later, the Conclave to elect a new Pope was held, when Cardinal Pacelli was chosen and took the name Pope Pius XII. One of his first actions was to order that all copies of the proposed encyclical should be destroyed, while he embarked on a very different and much more accommodating tactic in dealing with Hitler. In April LaFarge was informed that his proposed encyclical had been rejected by the new Pope. Both he and Grundlach were understandably disappointed. But LaFarge continued to believe that a bold public outcry from the Vatican would have mobilized opinion against the Nazis, and might even have saved hundreds or thousands, even millions of lives — a sentiment which Eisner appears to share.
In 1972 the National Catholic Register published an extensive report about LaFarge and the encyclical, contending that "had it been published it would have broken the much criticized Vatican silence on the persecution of the Jews". Naturally Eisner agrees. But a decade later, two French authors came across a French version of the encyclical which they quoted at length in their book, and  which gives a much less favourable view. According to Passelecq and Suchecky, LaFarge, while condemning racialist anti-Semitism, had fallen back into the traditional Catholic anti-Judaic stance. The fact is, LaFarge had claimed, that the Jews were a chosen people who had refused their calling, "blinded by a vision of material domination and power". The Jews, he said, "are an unhappy people whose misguided leaders have called down upon their heads a divine malediction, doomed to perpetually wander over the face of the earth". The answer, LaFarge asserted, is to accept he church's offer to convert to Christianity, "either as individuals or peoples. But until that happens, Christians had to be warned of the spiritual dangers to which contact with Jews can expose souls". Eisner, presumably deliberately, does not choose to use this quotation, or to take issue with the wider question of the virulence of Catholic traditional prejudices against Judaism.
As for Pius XI, the verdict is equally ambivalent. To be sure, he spoke out against Nazi totalitarianism and attacked the mistreatment of Jews in Nazi Germany. But, on the occasion of the notorious Crystal Night pogrom of November 1938, Pope Pius XI, along with all the German bishops, was silent. Whether or not the proposed encyclical, with its traditional rendering of anti-Judaic rhetoric, would have led to any mobilization of sympathy for the persecuted Jews remains doubtful. Eisner's confidence that Pope Pius XI's last crusade would have had the desired results seems therefore misplaced. Another twenty-five years were to pass before the remarkable changes of the Second Vatican Council brought about a striking abandonment of Catholic anti-Judaism, and issued in a wholly new relationship between Christians and Jews, of which Eisner undoubtedly and wholeheartedly approves.