Review of Wolfgang Sommer, Wilhelm Freiherr von Pechmann: Ein konservativer Lutheraner
ACCH Quarterly Vol. 17, No. 2, June 2011
Review of Wolfgang Sommer, Wilhelm Freiherr von Pechmann: Ein konservativer Lutheraner (Göttingen: Vandenhoeck & Ruprecht, 2010), 255 Pp. ISBN 978-3-525-55005-2.
By Diana Jane Beech, University of British Columbia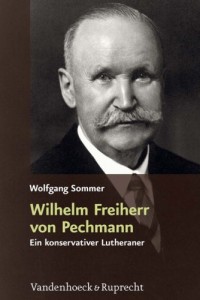 Wilhelm Freiherr von Pechmann was one of the most influential laymen active in the German Protestant Church in the early twentieth century. Born into a well-respected family on 10 June 1859 in Memmingen, Bavaria, von Pechmann was raised with a profound respect for his German homeland and was christened and educated into the specifically Protestant tradition. From an early age, von Pechmann saw himself as both "christlich und deutsch" (Christian and German). The compatibility of these religious and national identities came under question, however, much later in his life when Adolf Hitler and his Nationalsozialistische Deutsche Arbeiterpartei (NSDAP) came to power in Germany. From this point on, von Pechmann became engaged in a continual struggle not only against the Nazi State and its blatant intention to 'de-Christianise' the German nation, but also against his own Lutheran church, which he saw as all-too-submissive to Nazi hegemony.
Having been thrust into the world of work as a legal advisor to the Bayerische Handelsbank in Munich in 1886 following the untimely death of his father, von Pechmann never allowed his new professional obligations to distract him from his true passions of national politics and church affairs. As early as 1901 he was called to serve as the lay representative of the Munich diocese on the Bavarian General Synod. In 1909 he was called to the most prominent office of the Bavarian Protestant church as President of its highest instrument of church administration—the Oberkonsistorium. Only his professional standing as a lawyer and not as a theologian prevented his proposed presidency from coming into fruition.
In 1913 the University of Erlangen put an end to von Pechmann's status as a layman by awarding him an honorary degree in theology. From 1919 to 1922 he thus became the first elected President of the Provincial Synod of the Bavarian Protestant church. His influence within ecclesiastical circles was not just restricted to a regional level, however, as he quickly grew in prominence within the worldwide Lutheran community as well as within the administration of the national German Protestant Church. For example, between 1921 and
1927, he headed the German Protestant Church Congresses in Stuttgart, Bethel, and Königsberg.
Despite being deeply conservative and "deutschnational" at heart, von Pechmann showed
great distain for the advent of National Socialism in Germany in the 1930s. From the very
beginning of the so-called Third Reich (1933-1945), he took aversion to both the totalitarian claims of Hitler and his NSDAP, and, in particular, the politico-religious heresy of the Glaubensbewegung Deutscher Christen (German Christian Movement). To initiate protest against Nazism, von Pechmann engaged in potentially risky correspondence with pastors, academic theologians, bishops, ecclesiastical lawyers, publicists, and politicians. In 1933, he became a card-carrying member of the Bekennende Kirche (Confessing Church), and fostered close relations with anti-Nazi theologian Karl Barth and Confessing pastor Martin Niemöller.
Von Pechmann's increasing activism against Nazism brought him most notably into conflict with many of his fellow conservative Lutherans, in particular the leader of the Bavarian Protestant Church of the time, Provincial Bishop Hans Meiser. Von Pechmann believed that Meiser acted spinelessly against Nazi demands, and he was particularly disappointed with Meiser's reluctance to defend the Jews and other so-called 'non-Aryan' Christians from Nazi persecution. As a result of his deep dismay over the compromising conduct of Bishop Meiser and other Lutherans of the period, von Pechmann took the radical step of not only resigning his positions in the church administration but also of legally leaving the Protestant Church which he had faithfully served for so long. Years later, after the fall of the Third Reich, he converted to Roman Catholicism and remained a Catholic until his death in Munich in 1948.
In his endeavour to demonstrate how Wilhelm Freiherr von Pechmann eventually came to abandon his willingness to accept episcopal direction and to become instead one of the most forthright opponents of Nazism to emanate from the German Protestant Church, Wolfgang Sommer presents an in-depth biographical account of von Pechmann's life. Sommer begins with von Pechmann's formative years in Memmingen and Augsburg and continues through to his eventual rejection of German Protestantism during the final years of his life. Accordingly, the initial chapters of Sommer's work are devoted to detailing von Pechmann's background, and his early struggles to locate himself neatly within both a political party and within the German Protestant Church. To depict von Pechmann firmly as a product of his time, Wolfgang Sommer pays great attention to the political developments and challenges facing von Pechmann throughout his life, with entire chapters devoted to the First World War (1914-1918), the November Revolution of 1918, and the reconstitution of German Protestantism during the Weimar Republic (1918-1933). In order to reveal the relevance of von Pechmann for world Protestantism and not just for the national German Church, Sommer also devotes a chapter to his impact on ecumenical relations and his collaboration with the worldwide Lutheran community.
Unsurprisingly, the largest section of Sommer's study concentrates on the years of Germany's National Socialist dictatorship and von Pechmann's increasing opposition not only to Nazi measures but also to the actions of his own Lutheran church. By detailing von Pechmann's timely recognition of the pitfalls of Nazism and his constant warnings to Bishop Meiser to refrain from assimilation to the Nazi Weltanschauung, Sommer effectively presents von Pechmann as the virtuous thorn in the side of the spineless Bavarian church.
Sommer continually emphasises von Pechmann's morality and righteousness by contrasting his readiness to protest against the Nazi persecution of the Jews with Bishop Meiser's reluctance to oppose the measures. This technique downplays the reality of the situation for Meiser, however. As the leader of one of the only Protestant churches in Nazi Germany not to come under the national administration of the Deutsche Christen, Meiser had an unspoken obligation not to infuriate unnecessarily Nazi authorities in order to protect the autonomy of his church and, by extension, that of German Protestantism per se. Although von Pechmann's humanitarian, political, and theological insight was arguably impeccable
under the brutal conditions of Nazism, by overlooking the precarious predicament of the
Bavarian Bishop, Sommer enhances von Pechmann's reputation at the expense of those churchmen in more complex and critical situations. Whilst Wolfgang Sommer should be praised, therefore, for shedding light on a man who was influential to the German Protestant Church despite not being a theologian himself, it is nonetheless important that his work is not used to disparage the efforts of those who were firmly trapped by the shackles of their Protestant and specifically Lutheran vocations.