Review Article: The Vatican's response to the Nazi persecution of the Jews
Contemporary Church History Quarterly
Volume 21, Number 1 (March 2015)
Review Article: The Vatican's response to the Nazi persecution of the Jews
Susan Zuccotti, Père Marie-Benoît and Jewish Rescue: How a French Priest Together with Jewish Friends Saved Thousands during the Holocaust (Bloomington, IN: Indiana University Press, 2013). 277 Pp., ISBN 9780233008414.
Paul O'Shea, A Cross too Heavy: Eugenio Pacelli, Politics and the Jews of Europe 1917-1943 (Kenthurst, NSW: Rosenberg Publishing, 2008). 392 Pp., ISBN 9781877058714.
By John S. Conway, University of British Columbia
Two recent books have again stirred up the long-standing debate about the policies of Pope Pius XII and the Vatican in the face of the genocidal slaughter of the Jews at the hands of the Nazis during the Second World War. This controversy has now flourished for more than fifty years, and shows little sign of having reached any acceptable consensus. It has often been conducted more with political partisanship or religious loyalty than with a detailed examination of the evidence. Moreover this debate has suffered from the long delay in opening the most important sources held by the Vatican. Nevertheless most commentators express the confident hope that, when eventually the archives are revealed, their hypotheses will be found to be accurate. They therefore demonstrate a commendable integrity in allowing their findings to speak for themselves even where they differ in their interpretations. They show that there are still new aspects of the church's rescue efforts on behalf of the persecuted Jews which deserve fuller consideration. These books will undoubtedly add to the wider corpus of scholarship which continues to be of interest to scholars of modern diplomacy and statecraft.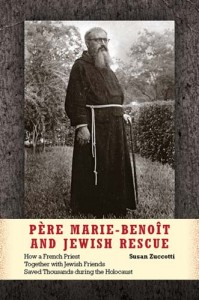 Susan Zuccotti is an established American scholar who has written a number of studies of the Holocaust, particularly dealing with events in France and Italy. Her latest contribution provides us with a well-researched biography of a little-known French Capuchin friar, Fr. Marie-Benoît, who was to play a significant role in rescuing Jews first in Marseilles in 1942 and then in Rome in 1943-4. Although he was to live for several decades after the war, his exploits were only recorded in French and remained largely unnoticed in remote French archives. Zuccotti was able to interview him in 1988 shortly before he died, but he was clearly a reticent witness, and it has taken her another twenty-five years to piece together his full story and to explore the determining factors which led him to play such an active role in assisting the Jewish refugees and victims of Nazi tyranny. The result is a portrait of a valiant and courageous priest whose witness in the cause of Christian-Jewish relations deserves to be better known to an English-speaking audience. So we can be grateful to Zuccotti for this helpful addition to the debate about how much (or how little) was done by various sectors of the Catholic Church to assist the Jewish victims of Nazism.
Fr. Marie-Benoît was born the son of a country miller in that part of western France which saw violent persecution of faithful Catholics in defense of the ancient regime by agents of the Revolution in the 1790s. Zuccotti suggests that this may have been the source of his opposition to any state-directed persecution of religious minorities. In fact he wanted to join the Capuchins, a branch of the Franciscan order, but was called up in 1914 and served throughout the war at the front. Later he was called to Rome and taught at the Capuchin seminary there until 1940. He returned to France just as his nation was defeated and divided into the German-occupied north and the Vichy-led unoccupied south. It was here in Marseilles that he first became involved with helping refugees, particularly foreign-born Jews, fleeing from the Nazis. He was able to help some to escape to Switzerland or Spain, or to move to the safer area of the Italian-controlled region around Nice. He established good relations with Jewish organizers of relief efforts, and continued these after he was recalled back to Rome in early 1943. The situation grew far more perilous after Mussolini was overthrown in July 1943 and when the German army took control of Italy's civil government in September. It was at this point that Fr. Marie-Benoît and his Jewish backers had the idea of using his presence in Rome to seek an audience with Pope Pius XII. As recorded in the printed Vatican documents, he was able to present the Pope with requests to help these foreign Jewish refugees, even though nothing came of his grander scheme to have these foreign Jews evacuated to North Africa. But, as he recorded later in his own memoirs, he successfully managed to help these stranded Jews by supplying them with forged identity documents, forged permissions to reside in Rome, and forged ration cards.
The few months between September 1943 and the liberation of Rome in June 1944 were particularly dangerous, and eventually forced Fr. Marie-Benoît himself into hiding. In October there followed the infamous round-up of the Roman Jews from Trastevere, when more than a thousand were deported to Auschwitz and only sixteen survived. As word spread through the foreign refugees' ranks, the need for secure hiding places grew more urgent. Fr. Marie-Benoît was active in seeking assistance from various convents and monasteries, despite being warned of the danger that these institutions could well be searched by German agents.
Zuccotti deals succinctly with the question, addressed in her earlier books and articles, about the extent to which the Vatican and its officials—including the Pope—knew about these clandestine relief efforts. She concludes that the Pope and other Vatican officials were certainly aware of these developments, even if they did not know the extent or the details. She rightly denies the claims made afterwards by eager papal supporters that the Pope had issued explicit directions or had directed Vatican funds for such efforts. As Fr. Marie-Benoît himself testified, he never thought of himself as carrying out the Vatican's instructions let alone receiving financial help. In fact the Vatican documents print some of the reservations felt towards Fr. Marie-Benoît on the grounds that his illegal activities endangered the Vatican's carefully guarded stance of neutrality. One official who repeatedly urged him to be more prudent was recorded as being gravely disappointed by the Capuchin's reckless readiness to engage in what he called his mission of mercy. Particularly grim was the fact that in these final weeks under German domination, several of Fr Marie-Benoît's protégés were victims of informers, playing along with the Germans. At the same time, though, he and his partners amongst the Jewish community were aware of the broad support they enjoyed from much of the non-Jewish population. Zuccotti's conclusion is that together they saved the lives of at least twenty-five hundred men, women and children, most of them refugees without resources in a nation controlled by Nazis determined to destroy them.
Rob Ventresca's authoritative essay on the same subject, recently published in Studies in Christian-Jewish Relations lends support to the same conclusions. ("'The Vatican was for us like a mountain': Reassessing the Vatican's Role in Jewish Relief and Rescue during the Holocaust. Settled Questions and New Directions in Research," SCJR 9, no. 1 (2014): http://ejournals.bc.edu/ojs/index.php/scjr/article/view/5601/4957). In his view the Vatican's response to the plight of so many million Jewish victims of Nazism conformed to a familiar pattern of self-imposed restraint and self-serving resignation. While on the one hand, the Pope and his advisors consistently avoided the explicit papal condemnations being requested, yet Catholic rescuers on the ground, such as Fr. Marie-Benoît, might count on some modest measure of papal support, usually moral rather than financial. Such moves hardly amounted to a policy or a directive for Jewish rescue and could be curtailed if the results seemed to increase the likelihood of reprisals or damaging repercussions for papal diplomacy.
The limitations placed on the Vatican's efforts to support Jewish victims of Nazism have long since been recognized. Direct protests to the German authorities were never answered. Requests to friendly governments, such as Brazil, to provide entry visas for Catholic converted Jews were ignored or only reluctantly accepted. Nevertheless the Pope's clear preference was to continue his diplomatic representations as a means of exercising the Vatican's leverage, limited as it might be, for the longer term issue of securing an eventual peace settlement.
It is within this envelope of diplomatic caution and restraint that the Vatican's efforts to assist Jewish refugees, such as those supported by Fr. Marie-Benoît, have to be judged. But undoubtedly the supplies of food and other material goods given to these people were approved by the Vatican's higher officials, and benefitted the numerous Jewish refugees hidden in Catholic institutions. But to date, no written order from the Pope has been discovered, let alone a "secret plan" as propounded recently in a journalistic account by a British writer. Yet Fr. Marie-Benoît's activities were not prohibited by his superiors, despite the urging of certain officials to be more cautious. He emerged as the main contact with the Jewish organization DELASEM and as such paved the way for a new and much more positive relationship in the post-war years. It was in this new climate that the Vatican subsequently tried to claim that much more aid had been given, and that Fr. Marie-Benoît was supported by their instructions. This led the good friar, as Zuccotti notes, to deny any such approval or assistance. As he recorded in his memoir: "I received no mission from the Vatican, because I was unknown there…. The Vatican was for us like a mountain. We were in a hurry." The only sum described in the Vatican published documents refers to a small amount dedicated for the support of converted Jews, but it is clear that the ingenuity of Fr. Marie-Benoît and his DELASEM colleagues enabled them to access other sources of financial support for which they did not need explicit Vatican approval. By such methods the Vatican did not appear to be engaging in questionable or possibly illegal financial activities, even if such aid was designed to assist poverty-stricken refugees.
In the post-war period, Fr. Marie-Benoit became one of the foremost champions of a new relationship between Christians and Jews. But Pius XII clearly had other priorities. It was only after two decades that these ideas found a new and much more favorable reception at the time of the Second Vatican Council, and in particular in its noteworthy statement Nostra Aetate of 1965. Fortunately Fr. Marie-Benoît was still alive at this time, and rejoiced. But there is no evidence that his war-time services played any part in the theological repudiation of Catholic antisemitism or anti-Judaism. He was never again to play any significant role even in his own Capuchin order. He died in 1991 at the age of 95.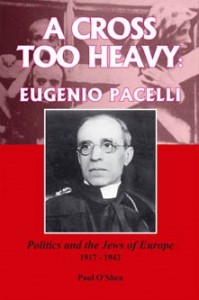 Paul O'Shea is one of the small group of Australian scholars who have become interested in the Catholic response to the traumatic events of the twentieth century, and particularly in the career of Pope Pius XII, as he sought to deal with the crises brought on by the totalitarian regimes of Europe. Like all of his predecessors, O'Shea suffers the handicap that many of the relevant documents have yet to be released from the Vatican archives, so despite his assiduous survey of Pius' earlier life as a Vatican diplomat and later as Cardinal Secretary of State, we still have to acknowledge the tentative evaluation of all hypotheses about his war-time policies, and especially about his so-called "silence" concerning the victimization of the Jews of Europe.
O'Shea, like his fellow biographer, Robert A. Ventresca (see my review of Soldiers of Christ. The Life of Pope Pius XII in the Journal of Ecclesiastical History, 65, no. 1 (January 2014): 230-1) lays great emphasis on Eugenio Pacelli's integration and identification with the corporate Catholic community of the later nineteenth century. But he fails to stress the fact that, under both Pope Pius IX and Pius X, the Vatican was going through a highly conservative, even reactionary, phase, as could be seen in the vicious attacks on Catholic Modernism. O'Shea believes that there can be little doubt that Pacelli was affected by the affair. "But the fact that he remained an exceptional favourite through the crisis … and continued to be promoted while others were cast aside, tells us much about his discretion, his resilience and his survival skills" (P. 144), though also about his deeply conservative mentality. The fact is that by 1914 the Vatican had reached a nadir in its theological and political influence. Its hostility to the modern world was well known. And although new Pope Benedict XV wisely decided to adopt a policy of neutral impartiality during the First World War, the Vatican was pointedly excluded from the peace process in Paris in 1919. The 1920s saw vigorous efforts to reach legally binding treaties, known as Concordats, with many of the European states in order to safeguard the Catholic Church's interests. Pacelli was in the forefront of such attempts, which however revealed the limits, obstacles and frustrations in dealing with such powers as the Soviet Union, Germany and Italy. The experience can hardly be said to have led Pacelli to a more liberal view of his fellows. He remained convinced of the superiority of the Catholic vision and of the need for centralized control over its affairs through cautious diplomacy, which would avoid confrontation but would harness the Vatican's limited influence at a time of turmoil.
When Pius was elected Pope in March 1939, the war clouds were ominously threatening. Pius was horrified by the idea of the blood-bath of twenty-five years earlier being repeated. The Church's duty was to serve the cause of peace. And for his first six months, Pius engaged in a ferment of diplomatic activity to this end. In vain. By September, he was forced to recognize not only the Vatican's impotence, but also the impossibility of calling Catholics to a higher ethos than national loyalty. He therefore retreated to the same stance of neutral impartiality as advocated by his predecessor Benedict XV. He continued to hope, or possibly to indulge his illusions, that the Vatican's mediation would eventually be required at the point when both warring sides recognized the need to halt hostilities and seek a truce or even a peace settlement. As Europe's most experienced diplomat, Pius believed that his services would be vital at such a moment. No steps should therefore be taken, or seen to be underway, which would prevent such an efficacious intervention from taking place. Hence the strenuous efforts to preserve the Vatican's neutrality throughout the course of the war, especially during the traumatic years 1943 and 1944 when the Vatican was surrounded by three changes of political-military regime. Despite all the pressures and pleas on behalf of the war's victims, including the Jews, Pius consistently believed that unwise and intemperate language would only make matters worse. In O'Shea's view, this was a leadership of reaction.
It is clear that Pius was deeply affected by the daily reports that flowed into the Vatican about the murderous practices of the Nazis, especially against the Jews. He agonized long and fervently about what he might say or do, but was continually restrained by the fear that such action would invite reprisals which would make matters worse. In a remarkably frank letter to his friend and colleague the Bishop of Berlin in April 1943, Pius expressed both his horror and frustration. "The seemingly limitless cruelty of the war machines makes the thought of a long drawn-out period of mutual slaughter unbearable. And what we have heard, day in and day out, of atrocities that are far beyond anything which could be ascribed to the necessities of war is even more horrifying and shocking." The frustration of not being able to decide which course of action would be less damaging to the cause of peace was an unavoidable and recurrent challenge, and lay constantly upon the Pope's conscience. It is small wonder that he concludes his letter to the Bishop of Berlin with the words: "In constantly striving to find the right balance between the mutually contradictory claims of his pastoral office, the path ahead for the representative of Christ is becoming daily more overgrown, beset with difficulties and full of thorns" (Actes et Documents du Saint Siege, Vol. 2, document 105, letter of 30 April 1943).
But to O'Shea this conscientious and pain-ridden policy of public neutrality and personal sympathy was not enough. To be sure, he acknowledges that as the war went on, we have a profoundly moving picture of the Vicar of Christ wanting to share the sufferings of the persecuted. But in the case of the Jews O'Shea suspects that Pius was the inheritor of a long and ancient tradition of suspicion and contempt towards a religion deemed "superseded". The Jews were thus among the "lesser victims" for whom no especially dangerous actions or pronouncements were called for. For O'Shea the turning point came in October 1943, when the Germans rounded up the Jews of Rome and transported 1000 to their deaths in Auschwitz. The fact that the Pope did not protest in clear words which could not be misunderstood was an unforgivable moral failure. He believes that Pius did not speak out because he did not want to. His actions and words up to this Nazi atrocity in October 1943 are defensible. After October 1943, they are not. For this reason O'Shea closes his narrative at this point.