Review of Daniel Heinz, ed., Freikirchen und Juden im Dritten Reich. Instrumentalisierte Heilsgeschichte, antisemitische Vorurteile und verdrängte Schuld
Contemporary Church History Quarterly
Volume 18, Number 4 (December 2012)
Review of Daniel Heinz, ed., Freikirchen und Juden im Dritten Reich. Instrumentalisierte Heilsgeschichte, antisemitische Vorurteile und verdrängte Schuld. Kirche – Konfession – Religion, 54 (Göttingen: Vandenhoeck & Ruprecht, 2011), Pp. 344, ISBN: 9783899716900.
By Nicholas Railton, University of Ulster
This review was originally published in the Journal of Ecclesiastical History Volume 63, no. 1 (January 2012): 202-203, and is reproduced here with the kind permission of the author and journal.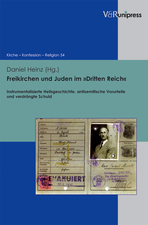 This volume of papers dealing with ten Free Church denominations in the so-called Third German Empire is an excellent study of key issues related to the themes of prejudice and guilt in Christians' dealings with Jews. Being denominations organised and financed independently of the state, the Free Churches were not faced with some of the pressures challenging larger mainstream denominations. No constitutional bar to Jews becoming pastors or members was imposed on their ranks, but this did not necessarily signify that Jewish Christians experienced solidarity and protection. Notices on the doors of Adventist churches, for example, told Jews that they were not permitted to enter. There were indeed righteous Gentiles who dissented from official or semi-official statements made by their ecclesiastical leaders and sought to alleviate the suffering of Jews and Jewish Christians. Yet too many representatives of Free Church organisations conformed to the spirit of the age. The authors of these studies weigh their former leaders in the balance and find them wanting. The book concludes with an appendix which primarily deals with a single pastor in Vienna. Graf-Stuhlhofer regurgitates his fanciful speculations about the Viennese Baptist whom he incongruously considers to have been the single most vocal public critic of the National Socialist regime (p. 311). He achieves this by reading political messages back into innocuous sermon notes, which form his primary source base. Graf-Stuhlhofer's feverish imagination transfigures Arnold Köster into a prophet of righteousness, standing out, Moses-like, against the diabolical forces of Nazism. This essay is certainly the weakest contribution to the volume. Whereas all the other chapters make an attempt to unearth the roots of prejudice and spiritual blindness, the appendix highlights a Free Churchman who, the reader is led to believe, was miraculously untouched by Austrian antisemitism. The author fails to explain how Köster could refer to Jews as 'hook-nosed creatures' (p. 326) and why he apparently believed that Germany was a divinely chosen rod to chastise Israel (p. 327). Throughout the volume, moreover, the issue of Vergangenheitsbewältigung receives little treatment. We learn nothing about why some Free Churches took decades before issuing paper statements about the sins of their fathers. Yet, even with these defects, this volume is an important addition to the literature on antisemitism and the shoah and will hopefully encourage more research on how and why members of minority religious groups internalised antisemitic views. The purely typological reading of the prophetical books favoured by Köster and other Free Churchmen was, and is, an essential ingredient of all anti-Judaism. Given that Bishop Wenner (p. 7) and Professor Heinrichs (p. 29) both misquote the Bible one wonders whether Free Church leaders are, however, in a position to correct traditional ecclesiastical exegesis of the Hebrew Scriptures. Yet Bonhoeffer's view is still valid today: only those who speak up for Jews (and the Jewish state) have a right to sing hymns or Gregorian chants.