Letter from the Editors: June 2012
ACCH Quarterly Vol. 18, No. 2, June 2012
Letter from the Editors: June 2012.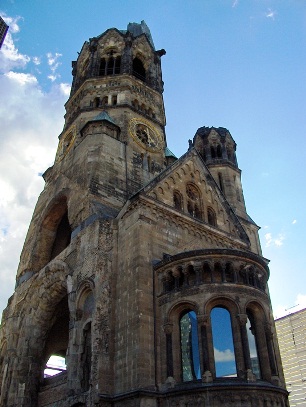 Dear Friends,
Once again we are pleased to present you with a new issue of the ACCH Quarterly. As is so often the case, our attention returns to two prominent themes in modern German church history: Dietrich Bonhoeffer (and more broadly, the Confessing Church) and the Holocaust.
On the former theme, John Conway reviews the newest (and final) volume of the Dietrich Bonhoeffer Works, English Edition, which considers Bonhoeffer's work in theological education during the later 1930s. Alongside this, we have included Matthew Hockenos' interesting reflection on Confessing Church leader Martin Niemöller's relationship with post-war America, and Manfred Gailus' memorial address celebrating the life and death of Friedrich Weissler, the first member of the Confessing Church to have been murdered by the National Socialist regime in the course of its campaign against the German churches. We hope to bring you further reflections of this sort in the future, as we seek to broaden the ways in which the ACCH Quarterly interacts with the history of German and European church history over the past century.
The second theme – the relationship of the Christian churches to the Holocaust – is taken up by Victoria Barnett, who reviews two monographs on the subject of the complicity of the churches and other institutions in the Holocaust. This subject also appears in a review of the conference "Betrayal of the Humanities." John Conway reviews Israeli politician Avraham Burg's meditation on the legacy of the Holocaust in Israel, while Matthew Hockenos reports from the Scholars' Conference on the Holocaust and the Churches, which took place recently in Rochester, NY.
We believe that these and other contributions to the journal contribute to the ongoing historical, theological, and moral dialogue about the relationship between church and state and the responsibilities of Christians in times of crisis.
On behalf of all the ACCH Quarterly editors,
Kyle Jantzen, Ambrose University College
Table of Contents
From the Editors
Letter from the Editors – Kyle Jantzen
Reviews
Review Article: Academic and Ecclesiastical Complicity in the Third Reich – Victoria J. Barnett
Review of Dietrich Bonhoeffer, Theological Education Underground: 1937-1940, Dietrich Bonhoeffer Works, Volume 15 – John S. Conway
Review of Avraham Burg, The Holocaust Is Over. We Must Rise From Its Ashes – John S. Conway
Review of Bryn Geffert, Eastern Orthodox and Anglicans: Diplomacy, Theology, and the Politics of Interwar Ecumenism – John S. Conway
Review of Mark Jantzen, Mennonite German Soldiers: Nation, Religion, and Family in the Prussian East, 1772-1880 – Robert Beachy
Articles
Conference Paper: Matthew D. Hockenos, "Martin Niemöller in America, 1946-1947: 'A Hero with Limitations'," Plenary Session: Disputed Memories of Complicity and Righteousness, 42nd Annual Scholars' Conference on the Holocaust and the Churches – Matthew D. Hockenos
News and Notices
Conference Report: Scholars' Conference on the Holocaust and the Churches – Matthew D. Hockenos
Memorial Speech: Friedrich Weissler (1891-1937) and the Confessing Church. Remembrance and Commemoration of the 75th Anniversary of the Death of Friedrich Weissler – Manfred Gailus
Conference Report: Betrayal of the Humanities: The University during the Third Reich – Bernard Levinson, Melissa Kelley
Article Note: Manuel Borutta, "Genealogie der Säkularisierungstheorie. Zur Historisierung einer großen Erzählung der Moderne," Geschichte und Gesellschaft – Heath Spencer
Call for Papers: Studies in Christian-Jewish Relations